I know it stinks. It's really no fun not achieving a goal in the timeframe you thought you would.
Pat and I won't achieve our goal of maxing out both of our Roth IRA contributions for the year before Dec. 31st. Yes, we know we have until April 15th to max it out, but really, we were hoping to be maxed by 12/31, so we could spend all of 2023 focusing on contributions for our 2023 contributions (the limit is increasing to $6,500 each in 2023!). I understand firsthand how much it stinks not achieving goals when you want to.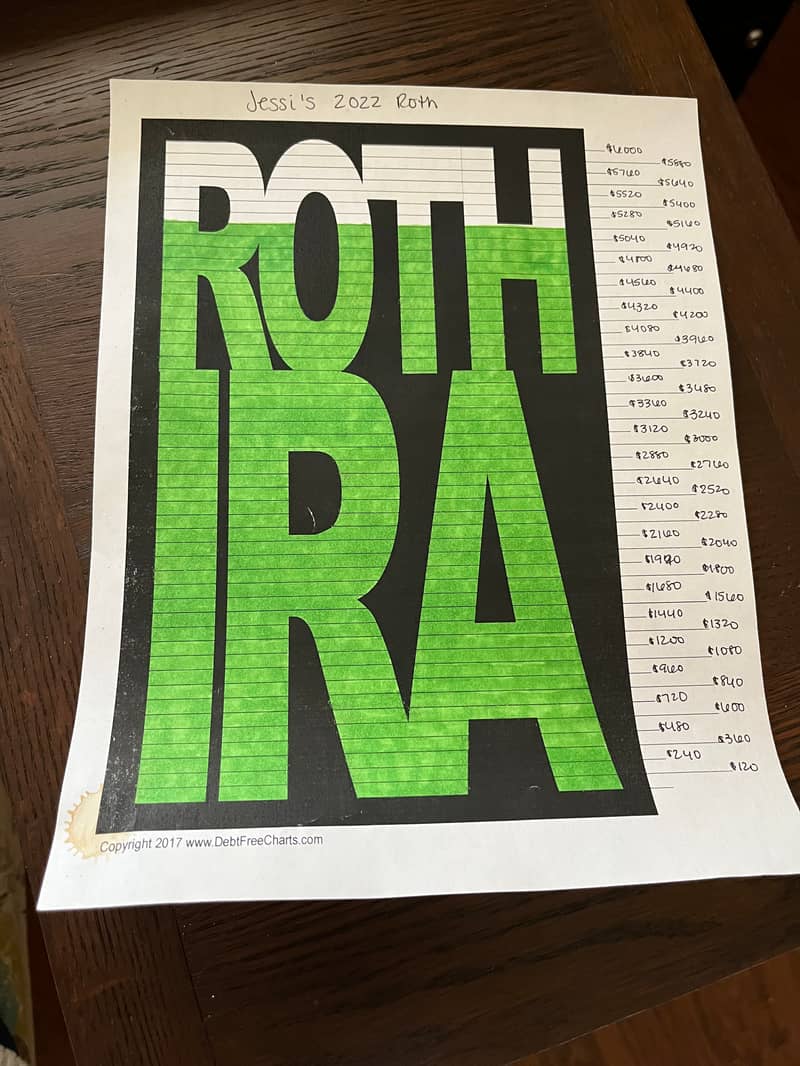 Do you know what stinks more?
But you know what also stinks? Staying stuck. Never moving. Only wishing you could achieve this or that.
Even if you aren't going to achieve your goals by January 1st, chances are you're probably a lot closer to achieving them than you would have been if you had never taken the first step in trying to go after them.
That's true for Pat and me too. We may not be exactly where we want in terms of our savings goal for the year, but we're a whole heck of a lot closer than we would be if we had never started at all!
That's what separates the successful from the unsuccessful.
And that's, in my opinion, what separates people from being successful with their goals to never achieving them – having the willingness and discipline to try. To try and to even be willing to fail. Not every goal is meant to be achieved, and some goals take way longer than we anticipated.
That's 100% okay. It's okay if your goals weren't achieved this year. Look at how far you've come, and be proud of the progress you've made.
Sometimes we just need to reframe it.
I gained 30 pounds during the Pandemic from a reeling bout of depression. I struggled like crazy to lose any weight at all! My hope was to have lost all 30 pounds this year…I only lost 10.
Yes, it stinks that it's proving to take me longer to lose the weight than it did to gain it, but I'd still be 30 pounds heavier instead of only 20 pounds now if I hadn't even started trying! So I could focus on, "Ugh, I've only lost 10 pounds!" or I could change it and focus on, "Hallelujah! I lost 10 pounds – let's see if I can drop five more pounds before March."
Just like trying to lose weight, racking up debt is super easy but really hard to pay off. We always want the pain to (or weight, or burden of debt, etc.) to go away as fast as possible, but sometimes it's just not that easy, and we've got to go a little slower than we like.
Setting boundaries with ourselves is an essential skill set we can learn.
I share this because I know how hard avoiding debt during the holiday season can be. It's so tempting to open up that Kohl's charge card so you can save that extra 35%. It's tempting to overspend just by swiping that credit card telling ourselves we'll pay it off in January. Only we get our statements and are shocked to see just how much we spent! We may even realize that we now can't pay it off before January. (I share more about how we climbed our way out of $55,000 of consumer debt in my book and the steps we took to make it happen and to create lasting change.)
But here's the thing, it's okay if you say no to the credit card offer knowing that you're paying 35% more if you know it'll cause you to spend even more money in the future and sink into debt. That's called boundaries. Setting boundaries with yourself is an incredible skill set, and you should be proud of yourself. (If you need a little encouragement if this year's Christmas looked different than previous years, read this post).
No matter what success looks like for you this year – paying off debt, investing, saving, saying no to credit card offers – celebrate it. Call it out and celebrate that you DID that! You achieved that! Even if it doesn't seem like much – you did it. You should be proud of yourself because old you can't believe you did it!
OTHER POSTS YOU MAY ENJOY
JOIN THE CHALLENGE!
Money controlling you? I know the feeling. My family has been living this real life on a budget for a long time and I can tell you that there's never a perfect season, but with a few changes you can start to reign in your money issues.

Join the 5-Day Challenge today and start getting your money life in order this week!