Since I shared last week about possible financial goals you could set in 2023, I thought I'd now share our family's financial goals for the year! Now, please note, these are my family's financial goals. This doesn't mean these should be your goals too right now. Maybe for you your big goal this year is to pay off debt or build up your Emergency Fund (joining our save $5,000 this year challenge?). Those are amazing and worthwhile goals so please don't think you need to change them to what we're doing.
Our Main Focus
Pat and I are very far behind in saving for retirement. If you've read my book, you know all about our cardinal sin with money and how it put us super far behind financially. So here we are in our late thirties, trying to make up lost ground in the game of preparing for retirement. And since my husband is self-employed, there is no 401(k) option to contribute to, but we can contribute to a Roth IRA.
So our big financial goal for the year is to max out both of our Roth IRAs ($6,500 each for a total of $13,000). This means that (if you missed where I recapped our spending and budget from 2022, head here for that post) we will need to work even harder to lower our expenses. We're going to have to work even harder to lower our grocery expenses as that was a huge expense last year! 😬
We did last year finally track down all the information on Pat's old 401(k) from the corporate company he worked at for three years. So we were able to roll that old account over into a traditional IRA, so we are now managing that account. If you have old retirement accounts from previous employment, I encourage you to make this a goal this year. Track down and find all your old accounts and roll them over into either a current 401(k) you have or a traditional IRA account. You don't want to have forgotten money out there.
The Goal that Makes Kind of Sad…
Our next big goal is to officially take the goal of buying raw property and building a house (my husband is a builder) off the table. It makes me sad to write that, but the reality is we've been trying since 2019 to make this goal a reality, and it's become very apparent to us that the door has not been opened for us. So instead of trying to pry open that door with a crowbar, we're going to trust that God has bigger plans for us.
We're going to take the money we had been planning to use towards buying property and instead use it to finally do some much-needed work on the interior of our home. We will be painting and buying new flooring and cabinet doors for the kitchen. If you haven't seen my home tour, it's a few years old but trust me. My house still looks the same inside. Head here to see the tour.
And now for our BIG goal…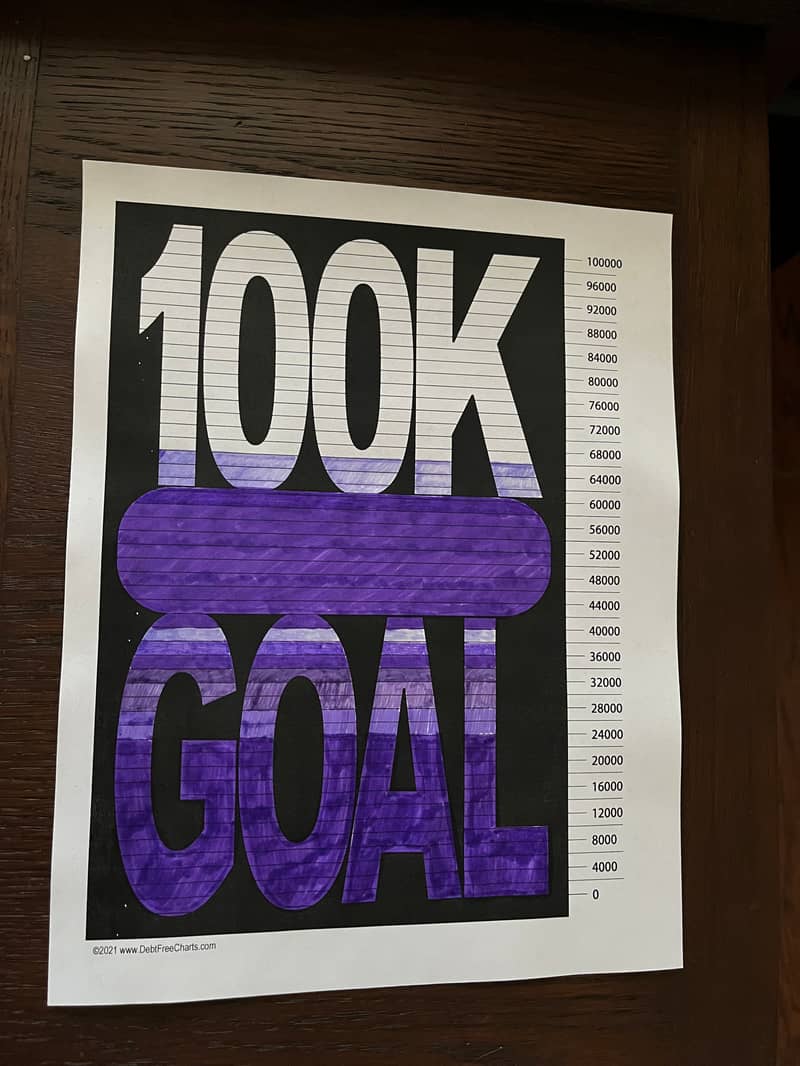 And finally, we have a REALLY BIG goal that we're going to try to achieve in the next two years. Seriously I don't know that we can do it, but we're going to try really hard! We want to reach $100,000 in our investment accounts (so Roth IRAs and taxable brokerage account). This doesn't include our liquid savings like our Emergency Fund or sinking funds. Just our investment accounts.
Since we're very far behind in investing for retirement, we decided that this needed to become a priority, and we needed to stop dragging our feet on it. So we'll have to get creative and hunker down to get serious with it.
I know that our goals may not seem like they're that much, but for us, these are a lot and will be super challenging to pull off. Especially since inflation keeps making things hard for us to navigate our spending around the essentials like groceries, but I believe that we can absolutely achieve these goals!
What about you? What big goals are you working on in 2023?
OTHER POSTS YOU MAY ENJOY
JOIN THE CHALLENGE!
Money controlling you? I know the feeling. My family has been living this real life on a budget for a long time and I can tell you that there's never a perfect season, but with a few changes you can start to reign in your money issues.

Join the 5-Day Challenge today and start getting your money life in order this week!